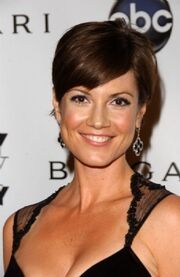 Zoe McLellan (born November 6, 1974 in La Jolla, California) is a United States actress currently appearing in Dirty Sexy Money as Lisa George.
McLellan made a guest appearances on Diagnosis Murder, (the episode Blood Ties), which was filmed as a pilot episode for a spin off series called Whispers which would have starred her and Kathy Evison. Ultimately the show wasn't picked up by the network.
Previously to her role in Dirty Sexy Money, she was best known for her role in JAG, as Navy Petty Officer Jennifer Coates from 2001 to 2005. At first she was only a recurring character but as her character made more and more appearances she was eventually added to the opening credits for what turned out to be the final season.
External Links
Edit
Ad blocker interference detected!
Wikia is a free-to-use site that makes money from advertising. We have a modified experience for viewers using ad blockers

Wikia is not accessible if you've made further modifications. Remove the custom ad blocker rule(s) and the page will load as expected.