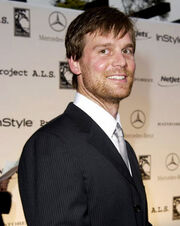 Peter Krause is an Emmy- and Golden Globe Award-nominated and Screen Actors Guild Award-winning American film and television actor and film producer. He is perhaps best known for his lead roles as Nate Fisher on the popular HBO drama Six Feet Under and Nick George on the ABC dramedy Dirty Sexy Money.
Ad blocker interference detected!
Wikia is a free-to-use site that makes money from advertising. We have a modified experience for viewers using ad blockers

Wikia is not accessible if you've made further modifications. Remove the custom ad blocker rule(s) and the page will load as expected.