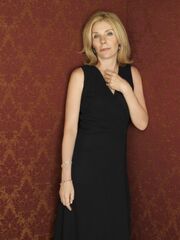 Letitia Darling is one of the main characters in Dirty Sexy Money. Letitia is the Darling family matriarch, friends with the Vanderbilt family, she is a socialite of formidable standing in New York.
Letitia is married to Tripp" Darling and has raised five grown but troubled children: Patrick, Karen, Brian, Jeremy, Juliet.
History within the show
Edit
Rendered devastated by Devlin George's death, the truth about the nature of their relationship comes to light when her daughter, Karen, reveals that they were engaged in a years-long affair.
Ad blocker interference detected!
Wikia is a free-to-use site that makes money from advertising. We have a modified experience for viewers using ad blockers

Wikia is not accessible if you've made further modifications. Remove the custom ad blocker rule(s) and the page will load as expected.