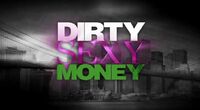 This is an episode list for the comedy-drama television series Dirty Sexy Money. The series ran on ABC for two seasons from September 26, 2007 to August 8, 2009, airing a total of 23 episodes.
The program revolves around the Darlings, the richest family in New York, their family lawyer Nick George and the mystery revolving around his father's death.
Season 1
Edit
The Lions
The Italian Banker
The Chiavennasca
The Bridge
The Game
The Wedding
The Country House
The Watch
The Nutcracker
Ad blocker interference detected!
Wikia is a free-to-use site that makes money from advertising. We have a modified experience for viewers using ad blockers

Wikia is not accessible if you've made further modifications. Remove the custom ad blocker rule(s) and the page will load as expected.