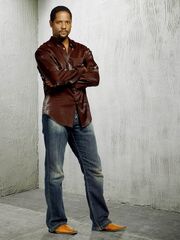 Blair Underwood (born August 25, 1964) is an American television and film actor. He is perhaps best known as headstrong attorney Jonathan Rollins from the NBC legal drama L.A. Law, a role he portrayed for seven years. He has gained critical acclaim throughout his career, receiving five NAACP Image Awards. He is best known to this wikia thought for playing the Dirty Sexy Money character Simon Elder.
Ad blocker interference detected!
Wikia is a free-to-use site that makes money from advertising. We have a modified experience for viewers using ad blockers

Wikia is not accessible if you've made further modifications. Remove the custom ad blocker rule(s) and the page will load as expected.